Discover Elegance at New David Jone Fashion Tailor
Welcome to the world of bespoke tailoring at New David Jone Fashion Tailor, where elegance meets perfection and the customer is at the center of everything we do. If you're in Patong, Phuket, and looking for a tailor shop that truly understands your needs, you've come to the right place.
We listen to understand your unique style and preferences, crafting quality suits, lady suits, and more that reflect your individuality. Our goal is to make every customer our own ambassador, a relationship that can only be achieved by consistently doing our best. At New David Jone Fashion Tailor, we're not just fulfilling your sartorial dreams; we're building a partnership based on trust, excellence, and a commitment to putting you first.
Your Journey to Perfect Fit Starts Here
Nestled in the vibrant streets of Otop, Patong, New David Jone Fashion Tailor is more than just a tailor shop in Patong. It's a destination for those who appreciate the fine art of tailoring. Led by the charismatic Mr. Johnny, this tailor shop has been crafting quality suits, lady suits, and custom-made garments for over 20 years.
Meet Mr. Johnny: The Heart and soul of New David Jone Fashion Tailor
Mr. Johnny's lifelong journey in the world of tailoring began as a humble salesman, a role that shaped his open-minded approach and keen fashion awareness. His passion, dedication, and ability to listen to his customers' needs led him to create his own tailor shop, overcoming challenges such as the devastating tsunami in 2004.
Today, his name is synonymous with quality and trust in Patong's tailoring industry.
Known for being easy to work with, Johnny's humble nature and global experience in the tailorship business have made him a beloved figure among clients and colleagues alike. His unique blend of traditional craftsmanship and modern style continues to set new standards in bespoke tailoring.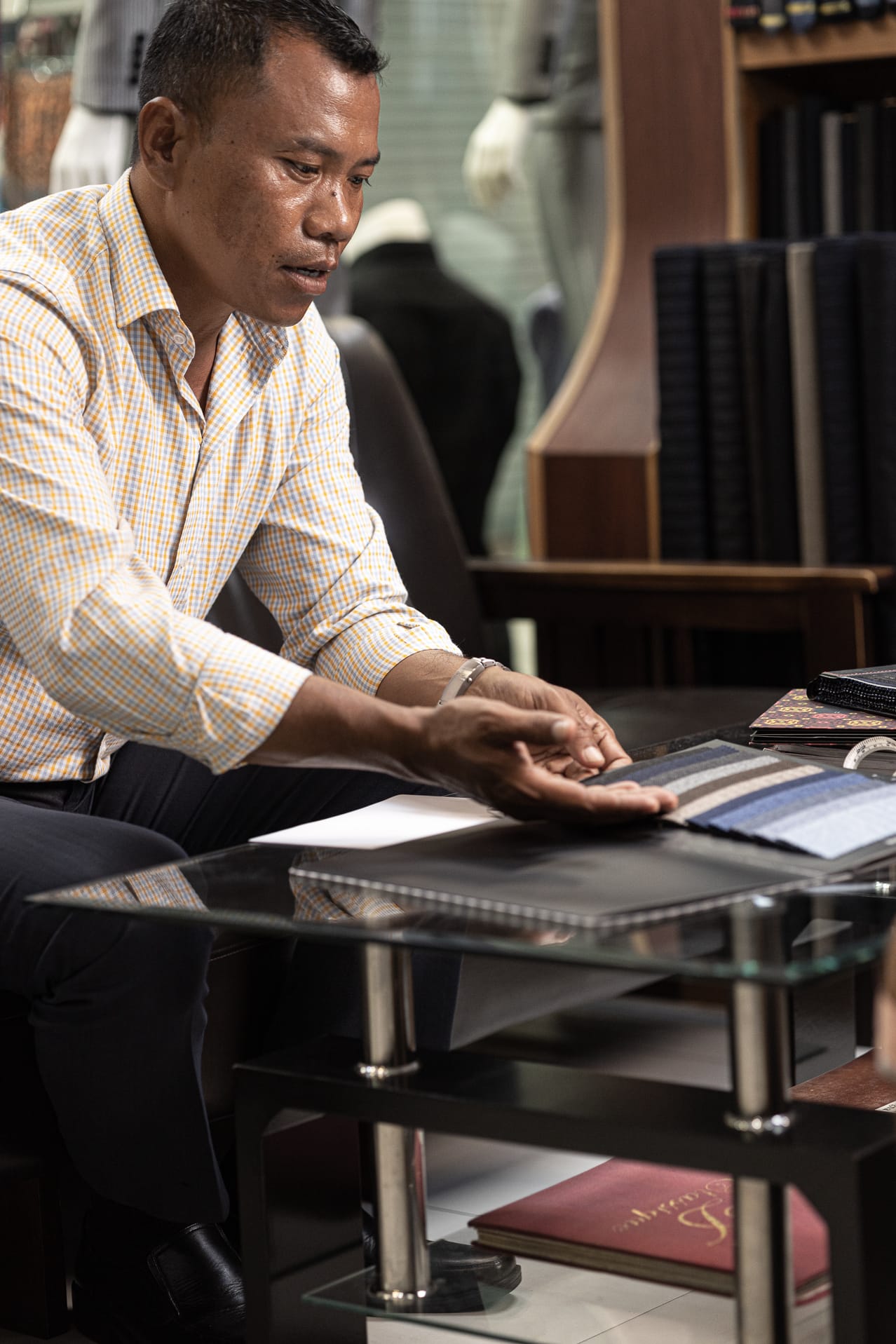 Quality Suits for Men and Women
Whether you're looking for a sharp business suit or an elegant lady suit for a special occasion, New David Jone Fashion Tailor has you covered. Our extensive selection of fabrics, ranging from soft cotton to luxurious cashmere, ensures that you'll find the perfect material for your needs.
Men's Suits

: Tailored to perfection, our men's suits are a blend of style and quality.

Lady Suits

: Crafted with precision, our lady suits offer elegance and sophistication.

Wedding Attire

: Make your special day even more memorable with our custom wedding attire.
A World of Fabrics
Explore our wide range of high-quality fabrics, perfect for all occasions. From the smooth texture of silk to the modern sleekness of sharkskin blends, we have something for everyone.
Custom Tailoring Services in Patong
At New David Jone Fashion Tailor, we believe in providing personalized service. Our expert designers are here to consult with you, ensuring that you get exactly what you desire.
Shirts, Tuxedos, Lady Dresses, Coats

: Custom-made to fit your unique style.

Smart Casual and Sport Jackets

: For the modern, stylish individual looking for quality and comfort.
Commitment to Excellence
Quality craftsmanship, affordable pricing, and attention to detail are at the heart of our tailor shop in Patong. We take pride in our work, and our glowing reviews from satisfied customers around the world speak volumes about our commitment to excellence.
Visit Us Today
New David Jone Fashion Tailor is not just a tailor shop; it's a tradition, a commitment to excellence, and a testament to the art of bespoke tailoring in Patong. Whether you're a resident looking for quality suits or a visitor seeking the best tailor shop in Patong, we invite you to visit us today.
Experience the magic of custom tailoring, guided by the expert hands of Mr. Johnny and his team. From quality suits to elegant lady suits, we've got you covered at New David Jone Fashion Tailor, your go-to tailor shop in Patong.
Contact us for any kind of questions or just drop by our tailor shop in Patong, Otop.